• dairy free • eczema • low amine • low salicylate • nutrition • the eczema diet • vegan
This is a recipe from 'The Healthy Skin Kitchen' book. This divine, healing flatbread was my saviour when I had severe food intolerances — it made meals delicious and a little fancy. You can't taste the leeks so it's a great way to get fussy family members enjoying this potent anti-inflammatory vegetable. They can also be used as soft tacos or roti. If you don't have a rolling pin, use any cylinder in your kitchen such as a jar, water bottle or other container.   Ingredients 1⁄2 cup finely chopped leek (whitest part) 1 cup filtered or spring water 11⁄4...
---
• dairy free • failsafe • gluten free • low amine • low salicylate
  This cleansing juice is a lovely alternative to your typical green smoothie which can contain itch-promoting ingredients such as spinach and kale (which are rich in itch promoting salicylates and amines). This smoothie is both alkalising and light on the digestive system.  Celery health benefits With claim to its recent fame, celery has many great health benefits. It is an excellent source of antioxidants, and is rich in vitamins and minerals - containing vitamin C, beta carotene, and flavonoids, as well as at least 12 additional nutrients in a single stalk. Inflammation has been linked to eczema and celery contains approximately 25...
---
• dairy free • eczema • gluten free • low amine • moderate salicylates • nutrition • paleo • the eczema diet
This tasty paleo-inspired fish dish includes a beautiful Autumn vegetable salad, paired with fresh white fish.  It's nearly Easter, and it's officially Autumn here in Australia, so we thought this colourful dish would be ideal for a special Good Friday meal (or anytime really). We have used ingredients that are featured in The Eczema Detox (check out the beautiful book here), plus sugar snap peas just because they look AMAZING in photos. Note sugar snap peas contain moderate salicylates so omit them if you are sensitive to this natural chemical. If you have read The Eczema Detox or The Eczema Diet by nutritionist Karen Fischer, you already know all about salicylates and how they...
---
• dairy free • gluten free • low salicylate • vegan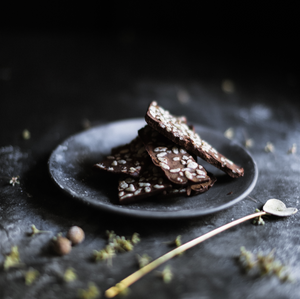 I'm having a skin-friendly Easter with this new recipe ... It's nearly Easter so today we made a healthy carob chocolate bar that is low in  salicylates (the chemicals that can irritate eczema), caffeine-free, soy-free, gluten-free and dairy-free ... which is not an easy feat as there are no recipes we could follow that totally met our criteria. So we made our own, using three key ingredients ... Attempt number two was a success, and we now know that you CANNOT mix maple syrup with cocoa butter as it curdles! My son Jack has just tested this chocolate bar (and asked for more), so it has passed the 'fussy child'...
---
As you can see, this is a beautiful tart! Although it needs a little extra love and time for assembling, it is actually easy peasy to make and definitely a crowd pleaser as its both beautiful and delicious! You can choose from a variety of vegetables from the Eczema Detox such as potato, sweet potato, cabbage or carrot for this recipe. We tried a few variations (both tarts are pictured below), however our favourite is a combination of purple, white and orange sweet potato. This combination cooked really well and provided a lovely texture and taste. We also tried purple cabbage and carrot which...